* "Christos is an interesting and talented artist with a clear vision of his music-his style reminds me of a cross between Leonard Cohen and Nick Cave! A pleasure to work with." – Barkley McKay, Owner – Valley Wood Studio *
Christos's Bio:
Christos graduated with distinction from National Conservatory of Athens (Ethniko Odeio) in 2005 while he finished his degree in Psychology (4 years) in School of Philosophy at University of Athens. In the same time he was following the London College of Music Advanced Grated Examinations in Music Performance – Electric Guitar and achieved distinction in Grade 8 (2003-2006). He trained in singing under Louisa Barry, Margarita Syngeniotou in Athens and Louise Gibbs in Leeds, UK (2006-2013).
Christos trained in composition, counterpoint and fugue by Composer Stavros Katirtzoglou (2005-2008) and in modern composition (Schoenberg, Hindemith, etc.) by Composer Nikos Panagiotakis (2007-2008). In 2008 he went in the UK to do his Master's Degree in Music Production/Composition at Leeds College of Music. He was supervised by Dr. Mark Marrington, Dr. Randall Whittaker & mentored by Composer Max Wilson and achieved distinction in MA in Music Production/Composition.
Christos started writing & producing songs in Greece at 2004. In the same time he started composing music for modern ensembles (trios, quartets etc.). He composed his first orchestral piece in 2006 and kept building his portfolio of compositions. In 2009 started composing music for films and exploring new musical fields and also experimenting with new sounds & styles.
Christos begun composing music and writing songs for Coral Caves 'Labyrinth's Path' album in 2009, which he also produced and released in June 2010. BBC Radio interviewed him also amongst other radio stations, broadcasted and reviewed 'Labyrinth's Path' as 'Absolutely Brilliant!'(BBC Radio: 17/6/10). Coral Caves' debut has been reviewed in UK, GREECE & USA. In 15/3/12 he produced and released under CPS Records the new Coral Caves EP Album 'Sometimes Shine' which made a break through in Radios' playlists in the USA and also broadcasted in the UK & GREECE. 'Sometimes Shine' also received very positive reviews (see review page) from magazines, blogs etc. in the UK, GREECE & USA where also listeners voted it as their favourite. In April 2013 initiated 'C-Drain' project as his alter-ego and kick-started by 'So What?' a track very different in mood and style from what he had been known for up until then. Continued with summer-single 'Oh Miami!' which received great reviews from the critics in the US & UK and broadcasted by various radio stations in the US, UK, South Africa, Canada, Greece, Turkey etc. and in Canada entered the Top 40 Radio Charts in No#9 on August '14.
In December 2016 he released as C-DRAIN the 'Covers Unplugged' EP album under CPS-Records featuring evocative re-workings of five of his favourite songs, and introducing a new 'cinematic' approach to production and performance. The EP received great reviews and entered the TOP 6 Albums of 2016 (English) and the TOP 20 of all 2016 Album-releases (ERT Radio).
At present, Christos is working on variant projects from folk and ambient to pop, rock, indie and music for films and theatre as composer, producer and writer. Also he is recording, producing and writing songs for other bands, singers and artists mostly in his home studio in London and in Athens. He's preparing his next LP Album as 'C-DRAIN' with new band members and performing in central live scenes with his band also combining performances with unique art-video-projections creating atmospheric and pop-art driven videos behind the stage, which are projected from video walls to castle-walls and entire buildings.
Kind words from people who have worked with Christos:
"I very much enjoyed mentoring Christos whilst at Leeds College of Music. He was extremely professional and impressed mewith his musicality and exceptional talent for song writing – someone to look out for!"
October 17, 2011 Max Wilson, Max Wilson, MA Mentor, Leeds College of Music
"Christos is an interesting and talented artist with a clear vision of his music -his style reminds me of a cross between Leonard Cohen and Nick Cave! A pleasure to work with."
October 16, 2011 – Barkley McKay, Owner, Valley Wood Studio
 worked with Christos at Coral Caves album.
"Christos is a very discerning client. Someone who commands respect through his mastery of his art. I would recommend Christos to deliver a product on time and equalling the passion of the client he works for. Dedication is his forte."
May 28, 2010 – Russ Hepworth-Sawyer, Mastering engineer, Owner – MOTTO Sound Company, UK.

"Christos is a talented songwriter with a great passion for music and and originality of vision. It was a great pleasure to work with him as he completed his recent 'Coralcaves' project at Leeds College of Music." April 22, 2010 – Mark Marrington, Lecturer in Music, Leeds College of Music, 
taught Christos on MA degree at Leeds College of Music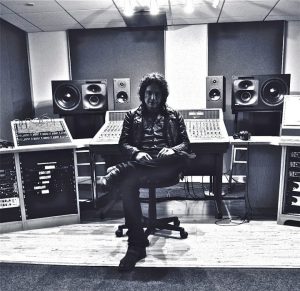 Some picked Reviews for Christos's projects / bands: 
BBC RADIO: C-Drain's "Oh Miami!" – "Very Nice!!!"
Brian Wilson (Beach Boys): Favorites 'Oh Miami!' and re-posted it on his personal page!
CANADA TOP 40 RADIO CHARTS: C-Drain "Oh Miami!" – No #09 (August '14)
Music emissions.com (USA): Rating: 9/10 "…C-Drain's debut single 'So What?' is just the sort of musical break from the misery we need. And that is the key to what makes a good pop song – it fits the moment. And 'So What?' does indeed fit the moment…so, go on…listen to "So What?" It will cheer you up guaranteed!"
No TiTle magazine (UK): "…If this artist continues to unearth interesting influences and a variety of angles his future album would certainly create a few welcome debates…"
Music emissions.com (USA): Rating: 9,5/10 – "Producer/artist Christos Pappas resurfaces with his latest track "Oh Miami!" Blending modern rock with continuing West Coast retro pop theme, he switches coasts, pens an ode and paints a vivid portrait of the Southern Florida party city. Mixing tinges of reggae as a clever nod to its proximity to the Caribbean, this could be the metropolis' next theme song!"
AltRockIsDead Radio (USA): "Interesting stats on Coral Caves' 'Shine', we've played it 75 times, of those listeners who rated it, it's rated 4 out of 5 stars, no drops, great work!!"
Jumbo Records (UK): "Local heroes Coral Caves walk the lines between lush, touching songwriting ala Echo And The Bunnymen and a slightly dark and gothic take on indie…Needless to say this 3 track E.P. is well worth checking out…"
Rockap.gr (GRE): "…overall we are dealing with a flawless presentation that if anything left speechless at the professionalism…'Sometimes' with subcutaneous blues…flirts heavily with Pink Floyd-economic tradition…to overemphasize the beautiful psychedelic parts…"