Coral Caves - Sometimes Shine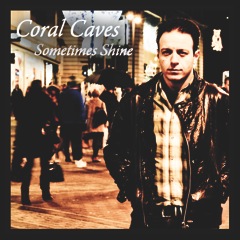 1. Sometimes
2. Shine
3. Can't stop that feeling
Sometimes Shine is the new EP album that follows a distinctly alternative musical route. It gives an impression of our new sound, roving & drifting through the imaginings of Coral Caves.
After the debut album "Labyrinth's Path" I went through new creative phases, which led me to explore new musical avenues. After a while this natural progression became translated into music & words. I tried to capture my emotions equally through both composition and production when words translate into sounds and sounds are transformed into words.
There are times that shine in life, especially after darkness and you can choose either to go down and drown or to move on. Sometimes Shine embraces hope in love & life, not as traditionally expressed by the romantics, but like the roll and undulation of the waves.
C.Pappas
"Sometimes Shine" reviews:
BBC RADIO Leeds: "Very Nice!"
JUMBO RECORDS UK: "Local heroes Coral Caves walk the lines between lush, touching songwriting ala Echo And The Bunnymen and a slightly dark and gothic take on indie...Needless to say this 3 track E.P. is well worth checking out..."
Buy CD
Sometimes Shine on CD costs £5 + £0.99 p&p within the UK & EU. Transactions are handled by paypal and very secure and safe.
1. This night love bleeds (part 1)
2. Moiroloi
3. This night love bleeds (part 2)
4. Ticking away
5. Breath song
6. Black curtains
7. Theseus' moiroloi
8. Labyrinth's path
9. Hersonysos
This latest journey from Coral Caves is one that will mesmerise you through sounds and influences from across the globe. "Labyrinth's Path" is an album which has been created as one - a clear vision from the beginning. Its a musical trip from Greece and the Balkans to the West, a prisma of Greek & Balkan music traditions in a post-modern context.
Guitars substitute the Lute and Bouzouki. The Saxophone and Clarinet performances, scores and melodies are inspired from Greek traditions, while the Brass instruments incite and invite you to the sound of the Balkans.
Lyrically "Labyrinth's path" refers to erotic/personal relationships, - times of romance and tenderness that have passed. The songs "Black curtains" and "Labyrinth's path" are inspired form the ancient myths of Icarus and Theseus accordingly.
I composed and produced this album in a very emotionally tense period of my life. Labyrinth's path for me acts as a catharsis for all the mournful emotions I experienced that period. Is an expressionistic music journey, a diving trip to the emotions and senses.
C.Pappas