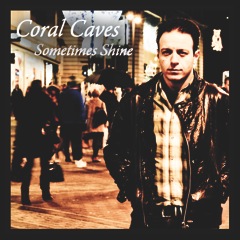 Coral Caves – "Sometimes Shine"
Sometimes Shine is the new EP album that follows a distinctly alternative musical route. It gives an impression of our new sound, roving & drifting through the imaginings of Coral Caves.
After the debut album "Labyrinth's Path" I went through new creative phases, which led me to explore new musical avenues. After a while this natural progression became translated into music & words. I tried to capture my emotions equally through both composition and production when words translate into sounds and sounds are transformed into words.
There are times that shine in life, especially after darkness and you can choose either to go down and drown or to move on. Sometimes Shine embraces hope in love & life, not as traditionally expressed by the romantics, but like the roll and undulation of the waves.
Christos Pappas, 15/12/2011
BBC Radio Leeds: "Absolutely brilliant"
Official Release Date: 15th of March 2012. Available in all web-stores, selected CD stores and CD order from: www.christospappas.co.uk/shop.
For more info & contacts:
email@christospappas.co.uk
www.christospappas.co.uk
www.myspace.com/thecoralcaves
 CPS RECORDS © 2012